Description
The United States-Mexico-Canada Agreement (USMCA), also known as the "New NAFTA", covers significant trade.In 2017, over $22.7 billion of New York goods and services were exported to Canada and Mexico, with Canada being New York State's number one export market.  In the same year, U.S. trade (exports and imports) with Canada and Mexico supported 799,300 jobs in New York. Some experts say the USMCA will make a good trade relationship "even better", ensuring preferential market access for U.S. exporters and solidifying commitments to "fair and science-based trade rules". 

On Wednesday, May 29, at 11:30 a.m. the Saratoga County Prosperity Partnership, in partnership with the International Trade Administration | U.S. Department of Commerce, will host a luncheon and panel discussion on why the New NAFTA matters to New York State and the Saratoga County economy. The Saratoga Partnership's Global Markets Advisor, Mary Estelle Ryckman, will moderate an engaging discussion with Phyllis Yaffe, Canadian Consul General of New York; Steven Stewart, Director of International Trade Policy, IBM Government Affairs; Devi Keller, Director of Global Policy at the Semiconductor Industry Association; and Vanessa Sciarra, Vice President, National Foreign Trade Council – all leaders on the front lines of these trade negotiations.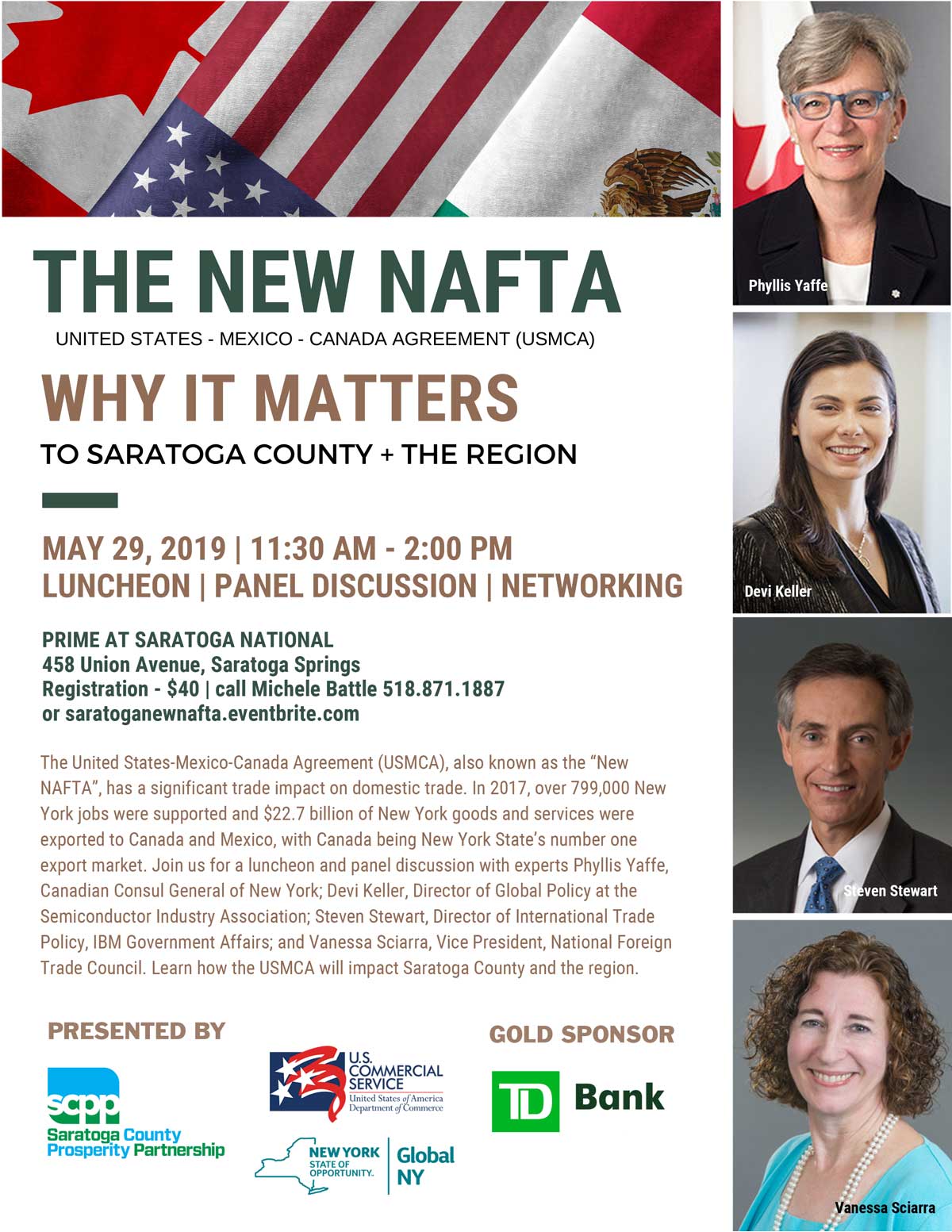 Date and Time
05/29/2019 11:30 AM - 05/29/2019 2:00 PM EDT


Location
Prime at Saratoga National
458 Union Avenue
Saratoga Springs, NY 12866



Back to Job Fairs
Saratoga County Prosperity Partnership
The Saratoga County Prosperity Partnership is Saratoga County's designated Economic Development organization leading the public and private sectors to achieve economic success for our businesses and residents.
The Saratoga Partnership is the first point of contact for business retention, expansion, and attraction. We provide a seamless delivery of economic development and workforce development assistance for businesses seeking to expand in Saratoga County, New York.
NOTE: JobsInTheUS promotes local job fairs in order to provide job seekers with extra avenues towards career opportunities. However, all career fairs are operated by other event organizations, and are not affiliated with JobsInTheUS and its sister sites. If you have questions about an upcoming job fair, you may follow the organizer's web address to learn more.